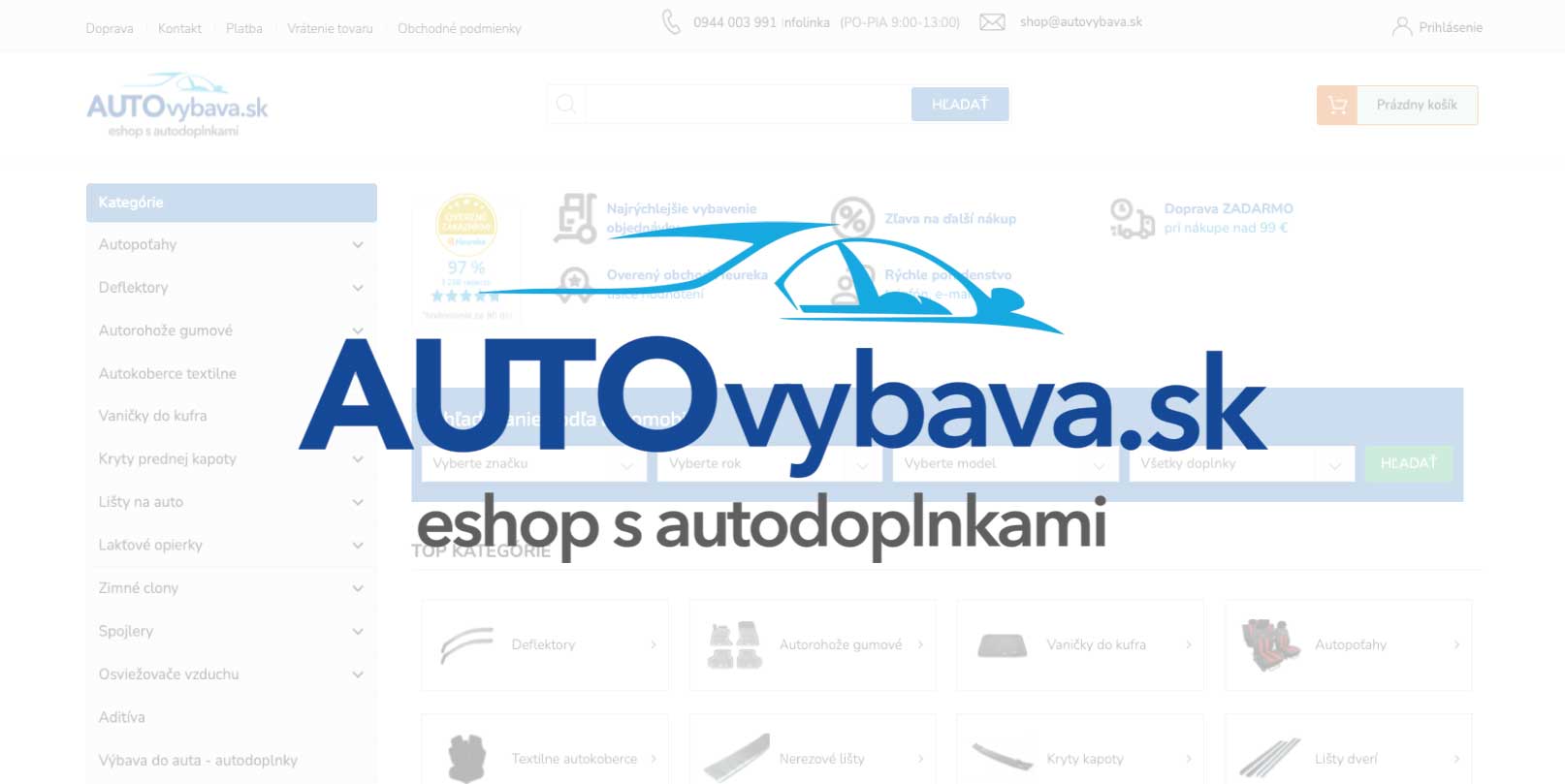 About our client AUTOvybava
E-shop AUTOvybava.sk has been operating on the Slovak market and focuses on the interior car accessories segment. You can find complete equipment for your car there including deflectors, textile rugs, rubber mats, trunk trays and other. The assortment is wide, customers have many products from various manufacturers to choose from. The store also offers professional consulting. The owner of this successful e-shop is Ing. Patrik Marák, who we have been working together with for a long time through multiple features Managino Agency offers.
Visit the web
Small steps lead to success
Our cooperation first started with our client using CSS service Shopping in EU, which guaranteed lower CPC in shopping ads and also higher view and click rate for the original budget. Once this service was proved to work, our client started also using the automated BlueWinston tool, which helped easily filter products into campaigns based on the season. After a few months, we decided to expand the account also with manual campaigns in Google Ads to reach even better results.
Client uses CSS Shopping in EU
We segment campaigns with the BlueWinston tool
We expanded the account also with manual campaigns
We are currently working on SEO optimization
The first step was to sort Smart Shopping campaigns that contained all of the products, into a separate campaign for each category. Then we monitored the collected data and exuded ineffective products that only took money from the budget and didn't bring any conversions. We also decided to implement a new campaign type and cover more platforms.
How to easily save time? The answer is automation
Thank to the automated BlueWinston tool we were able to create Smart Shopping campaigns for each product category individually. The process was very easy and the creation of campaigns took only a couple of minutes thanks to the ability to filter based on price, brand and category. In Smart Shopping campaigns we only filtered selected products form a chosen category in a set price range.
The advantage of the segmentation of Smart Shopping campaigns is mostly the clear transparency and the control over their performance. Campaigns being segmented based on product categories ensures easier result evaluation. Thanks to BlueWinston, campaigns are simply optimized with set scripts. If you prefer manual control, you can exude product by hand – without the help of the scripts.
We tested the unconventional campaign format Discovery
We decided to cover more platforms that just search engines such as Youtube, Gmail, Discovery and more. This type of campaign uses machine learning and shows customers products they search for or might be interested in based on their online behavior. Discovery Ads is, based on our experience, a cheaper format than display campaigns (thanks to lower average CPC) while also bringing in more conversions.
You can use these ads in two alternatives. One being a classic image as with a display campaign or a series of images (carousel), where you can advertise multiple products at once and the user can move through them on their own. We decided to A/B test these two ad alternatives. They were launched in the same period. We recorded a much higher performance in the carousel ads.
+58,17% clicks
+23,81% CTR
+48,30% impressions
-66,66% average CPC
-91,33% price/conv
-178,13% PNO
Discovery ads, as opposed to classic ads, brought better results in all efficient metrics. If you are interested in setting up this type of campaign in your Google Ads account, let our PPC specialists do it for you.
"Managino helps us manage PPC campaigns. We are happy with the results of our cooperation and can only recommend them."